Your 2020 beach read list is here!
Ahhh the summer weather is upon us. My body is ready. I'm also super ready for good beach reads and reading OUTSIDE with said good beach reads. Reading outside is my FAVORITE place to read — the tub being my second favorite reading spot.
I MEAN, this certainly is going to be a different kind of summer for sure when it comes to beach reading now that I have a kid! We have some beach trips planned with Riley but I'm managing my expectations about how many good beach reads I'm going to get to with a one year old this summer.
HOWEVER Will is the best husband and dad and I know we will work out a way for me to sneak in some good beach reads this summer! I'm imagining me sneaking away to the pool during her nap to read (Will would much prefer an afternoon nap himself instead of sitting by the pool) and I'm sure he'll give me some time at the beach to relax with one of these beach reads on this list while he entertains her or while they both nap (his favorite beach activity) under the little beach tent we just bought.
So, even though my beach reading isn't going to be as abundant this year, I didn't want to deprive y'all of good beach reads for your summer reading pleasure. These are honestly some of my favorite posts/book lists I've written over the last 8 years of blogging because beach and poolside reading is my FAVORITE way to read. It's so relaxing to me and also because I love being outdoors but I'm not necessarily OUTDOORSY — unless outdoorsy means reading in a hammock with a drink in my hand??? I'm super outdoorsy if that is the case.
You can also check out my good beach read type lists from previous years: 2017 beach read list, 2016 beach read list, best beach reads for teens, Beach Reads For Those Who Don't Like Realistic Fiction/contemporary, beach reads 2014 edition, Best Beach Reads For Young Adults (2013 edition)
So, enjoy this list of newish and upcoming releases that are going to make for good beach reads this summer:
[Disclosure: This post may contain affiliate links which means that if you click on a link and purchase something I've talked about or recommended, I'll receive a very small percentage of the sale. Please see my disclosure policy for more info.
If you are into contemporary fiction as your beach read…
How To Walk Away by Katherine Center: I loved Katherine's novel Happiness For Beginners so I'm SUPER excited about this one!!
"Margaret Jacobsen has a bright future ahead of her: a fiancé she adores, her dream job, and the promise of a picture-perfect life just around the corner. Then, suddenly, on what should have been one of the happiest days of her life, everything she worked for is taken away in one tumultuous moment. In the hospital and forced to face the possibility that nothing will ever be the same again, Margaret must figure out how to move forward on her own terms while facing long-held family secrets, devastating heartbreak, and the idea that love might find her in the last place she would ever expect."
Ghosted by Rosie Walsh: Sarah meets the perfect guy and they instantly connect and she knows they are meant to be — she's finally found the one and he seems to feel the same way. Promising to call her when he arrives to the airport for a vacation he had already booked, she is shocked when she doesn't hear from him. Her friends think she's been ghosted but she believes something happened…even as the weeks go by and she doesn't hear from him. She discovers that she may be right….there IS a reason for his disappearance. Out July 24.

You Me Everything by Catherine Issac: A single mother Jess and her ten-year-old son William are setting off to spend the summer in France where William's father live and runs a hotel. Jess wants nothing more than nothing for Adam to connect with his son but she soon finds it seems like he has other priorities. As William gets to know his dad and starts to idolize him Jess wants to protect him from being let down while trying to deal with some of her own stuff and a secret that she doesn't want anybody, especially her son, to know.
The High Season by Judy Blundell:
Ruthie has it all — living in a cute beach town basically in the Hamptons, great job, mother to Jem and living in her dream home. The catch is that she, her daughter and her ex-husband Mike have to rent out their home every summer to tenants in order to afford their life and keep it as a nest egg for college. As they pack up Memorial Day weekend to make way for the renters, this year's renters just might turn her world upside down.
Matchmaking For Beginners by Maddie Dawson:
Marnie wants an ordinary life — husband, kids, minivan in the suburbs, the whole shebang. And in the wake of her marriage she's certain she will get this life….until she meets her fiance's match-making aunt who is dying and tells Marnie everything is going to change. Her marriage ends after two weeks and even more shocking than that she finds out she's inherited his aunt's brownstone and all her match-making "projects" she left behind and somehow the aunt might have been on to something to see Marnie's match-making potential to follow in her footsteps.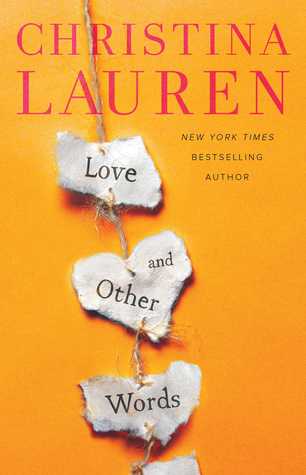 Love & Other Words by Christina Lauren:
A love story about childhood neighbors & friends turned lovers told in alternating timelines from where their story starts in the past, to the love they almost had until he broke her heart, to the present where they run into each other after many years.
The Way You Make Me Feel by Maurene Goo:
Clara, a lover of pranks and jokes, takes one too far and her dad sentences her to a summer of working on his food truck with a classmate of her — not the fun summer she had planned. But faced with a new friendship, a new crush and a new possibility as she starts to care about her family business a whole new Clara might be poised to emerge if she can let go of some of her old self.
Always Never Yours by Emily Wibberly & Austin Siegemund-Broka:
Megan has come to realize that she is "the girl before" — as in the girl her exes are with right before they find their true loves. Instead of being salty about it she focuses on her next fling and her future of directing theater. When trying to fulfill her school's acting requirement in a small role, she ends up being cast as Juliet in Romeo and Juliet which is not quite the small role she hoped for. In between rehearsal, family life and pursuing a potential fling, she notices Owen — an aspiring playwright and so different than her exes.
Save The Date by Morgan Matson:
Charlie Grant and her siblings are going to be all together once again — to celebrate their sister's wedding and to say goodbye to the beloved comic strip their mother has written inspired by their own family as they also get ready to sell their childhood home. One last perfect weekend altogether in their perfect house is what Charlie imagines but the reality is that the disasters keep piling up (vengeful neighbors, huge wedding mishaps, family dramas) and the weekend shapes up to change the way she sees her family as she learns so much about the past.
LOVED this book. Morgan never disappoints when it comes to good beach reads.
If you are in the mood for a historical beach read….
The Way of Beauty by Camile Di Maio:
Told from the perspective of Vera, a young woman growing up in NYC during the early 20th century and Alice, Vera's daughter, years later, The Way of Beauty tells the story of Vera falling in love with Angelo, a childhood friend, and how she's devastated when Angelo introduces her to Pearl — the woman he intends to marry. Vera and Pearl, a strong women dedicated to the Suffragette Movement, form a surprising close friendship but as Pearl gets more involved in the movement and asks things of Vera, Vera gets pulled more into their family and closer to the life she wanted. Her choice plays out and affects not only her life but her daughter Alice's life.
It's the 1940's in London and Emmy is doing her part during the war volunteering as a telephone operator with the Auxiliary Fire Services. When she sees an ad for a job that could help her be a Lady War Correspondent she applies and is disappointed that it's actually a job as typist for a famous columnist at the paper. Part of her job is to sort out any letters from women with any "unpleasantness" in them and trash them but Emmy can't when she reads these poignant letters from women so she decides to secretly respond to these women and the troubles they shared.
Eagle and Crane by Suzanne Rindell:
Louis and Harry, known as Eagle and Crane, are the daredevil flyers of the Earl's Flying Circus that travels depression-era California. The two young men have a complicated relationship thanks to family beliefs regarding Japanese immigrants and land Louis's family believes should still belong to them. Later on when Pearl Harbor is bombed one of the Shaw planes crashes and two bodies are found — believed to be Harry & his father who escaped the camp they were put in. An FBI agent doesn't think things add up about the case so he sets out to find out what really happened to cause the plane crash, who was in the plane when it fell from the sky, and why no one involved seems willing to tell the truth.
The Subway Girls by Susie Orman Schnall:
The story of two women, 70 years apart, one who gets caught up in the glamorous Subway Girls beauty contest in 1949 and the other, an ambitious advertising exec, who is trying to save her a job and stumbles across the historic Miss Subway campaign as she tries to pitch something awesome for the NYC subway account. Both women, despite the different eras, are both on the same pursuit for happiness, ambition and love.
If a thriller/mysteries are your idea of a good beach reads…
Meet Hanna. She's the sweet-but-silent angel in the adoring eyes of her Daddy. He's the only person who understands her, and all Hanna wants is to live happily ever after with him. But Mommy stands in her way, and she'll try any trick she can think of to get rid of her. Ideally for good.
Meet Suzette. She loves her daughter, really, but after years of expulsions and strained home schooling, her precarious health and sanity are weakening day by day. As Hanna's tricks become increasingly sophisticated, and Suzette's husband remains blind to the failing family dynamics, Suzette starts to fear that there's something seriously wrong, and that maybe home isn't the best place for their baby girl after all.
The Last Time I Lied by Riley Sager:
Emma was one of the last ones to see her fellow cabin mates at summer camp before they went missing sneaking out of their bunk. Years later, as an adult, the wealthy owner of the newly reopened camp asks her to return as the art instructor. Emma agrees and figures it would be a way to find out what happened to her friends all those years ago but danger mounts as she gets closer to the truth.
The Perfect Mother by Aimee Molloy: GOING TO BE A MOVIE STARRING KERRY WASHINGTON WOOOO!
A group of mothers who gave birth in the same month get together twice a week at the park and enjoy the social company they are desperately in need of but also share their motherhood journeys. One night they decide to all meet for a night out to get drinks and one of the babies goes missing from the babysitter's care. The case becomes a media circus and the police start asking a lot of questions of the moms and a small group of the moms comes together to try to help find out what happened. Secrets and lies and messy relationships, oh my!
White Rabbit by Caleb Roehrig:
A mystery/thriller about a boy who gets a call from his sister, on the same night his ex-boyfriend appears back in his life needing to talk, begging for help and when they reach her she's drenched in blood and her boyfriend is dead on the floor. She swears she didn't do it, though he knows there's more to the story, so he and his ex try to help solve the mystery to prove she is innocent.
The Good Liar by Catherine McKenzie: Three women's lives are forever changed when a building in downtown Chicago explodes and they lose people in the explosion. As the anniversary of the tragedy approaches and the media coverage starts back up again, all 3 women have secrets they are prepared to guard at all costs.
Every Single Secret by Emily Carpenter: Daphne finally met her soulmate — someone as emotionally guarded and private about their past as her — until her fiance starts having terrible nightmares which put a strain on their relationship and impending marriage. When he proposes going to this 7 day retreat he heard about with some renown doctor who might be able to help him, Daphne reluctantly agrees. She has her guard up but keeping the past from coming out might not be her only worry as she starts to realize the institute might not be all it says it is.
Just finished this one last night and HAD to sneak it on my good beach reads list!!
Social Creature by Tara Isabella Burton: Y'all this books blurb had me at A Talented Mr. Ripley!
Louise has nothing. Lavinia has everything. After a chance encounter, the two spiral into an intimate, intense, and possibly toxic friendship. A Talented Mr. Ripley for the digital age, this seductive story takes a classic tale of obsession and makes it irresistibly new. Out June 5.
If escaping into some science fiction or fantasy is your idea of good beach reads…
The Calculating Stars by Mary Robinette Kowal:
An alternate history story in which a meteor decimates the U.S. government and paves the way for a climate cataclysm that will eventually render the earth inhospitable to humanity. This looming threat calls for a radically accelerated timeline in the earth's efforts to colonize space. This gives Elma York, a WASP pilot and mathematician, the chance to enter the space race and put a man on the moon. She works with many qualified ladies and is determined to become the first lady astronaut — the patriarchy and the "proper place for a lady", be damned.
Devils Unto Dust by Emma Berquist:
"Ten years ago, a horrifying disease began spreading across the West Texas desert. Infected people—shakes—attacked the living and created havoc and destruction. No one has ever survived the infection. Daisy Wilcox, known as Willie, has been protecting her siblings within the relatively safe walls of Glory, Texas. When Willie's good-for-nothing father steals a fortune from one of the most dangerous shake-hunters in town, she finds herself on the hook for his debt. With two hunters, including the gruff and handsome Ben, to accompany her, she sets out across the desert in search of her father. But the desert is not kind to travelers, and not everyone will pass through alive."
Children Of Blood and Bone by Tomi Adeyemi:
"Zélie Adebola remembers when the soil of Orïsha hummed with magic. But everything changed the night magic disappeared. Under the orders of a ruthless king, maji were targeted and killed, leaving Zélie without a mother and her people without hope. Now, Zélie has one chance to bring back magic and strike against the monarchy. With the help of a rogue princess, Zélie must outwit and outrun the crown prince, who is hell-bent on eradicating magic for good. Danger lurks in Orïsha, where snow leoponaires prowl and vengeful spirits wait in the waters. Yet the greatest danger may be Zélie herself as she struggles to control her powers—and her growing feelings for the enemy"
Ace of Shades by Amanda Foody: This YA fantasy is set in the City of Sin (Las Vegas on steroids) which is a place where casino families run things and gangs infest the streets. The main character is reputable young women who must go into the City of Sin to find her mother who has gone missing and enlists the help of a con man and street lord to help find her.
Sky In the Deep by Adrienne Young: A Viking-inspired YA novel where a young warrior girl finds out, while fighting on the battlefield against their rival clan, that her brother is in fact is not dead and betrayed her when she sees him fighting alongside her enemy. She finds herself in enemy territory and, when a new threat only thought to be legend emerges, she must figure out how to unite the two clans.
I cannot wait to sit down with some good beach reads this summer! What books make for good beach reads for you? What are some of the best beach reads you've read?
P.S. If you loved this list of good beach reads, check out this list of 2018 must read books or this list of 42 book to movie adaptations happening this year.
Don't forget to save this list of good beach reads for this summer: